Community Involvement
Albuquerque's Miller Financial Group Wins Community Impact Award
Ben Miller, managing partner of The Miller Financial Group, along with his team at the Albuquerque office of Northwestern Mutual, were awarded the 2010 Community Impact Award from the Northwestern Mutual Foundation for their ongoing work with the Juvenile Diabetes Research Foundation (JDRF) of New Mexico. JDRF is an organization committed to finding a cure for Type one diabetes and its complications through the support of research. In recognition of the office's work with JDRF, the Northwestern Mutual Foundation will make a $50,000 grant to support the organization's mission of finding a cure for diabetes.
The Miller Financial Group's work with JDRF began in 2007 when Ben Miller became the managing partner of the Albuquerque office. He was committed to finding a local nonprofit organization that his office could embrace. After a review of several nonprofits and through the support of several financial representatives in the office, his team selected JDRF as a nonprofit partner, and its involvement has grown each year.
For more information, read the full press release.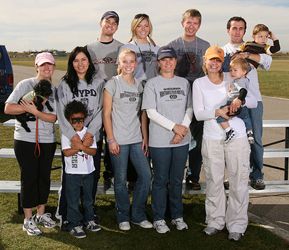 2009 Walk to Cure Diabetes Team